There are many opportunities at RIFAC for students who want to take their fencing to the next level!
Once a student is in the Youth or Junior Advanced class, he or she is eligible for the Youth or Junior Club Team, an in-house tournament team that trains twice per week; once in the Advanced Class, and once during the Youth or Junior Club Team practice. For even more practice, Open Fencing for Club Team members is also encouraged (and is included with the Club Team membership.) The Club Teams take part in a special Youth/Junior Tournament series at RIFAC, as well as other RIFAC tournaments.
Many fencers will choose to stay on the Club Team level for their time at RIFAC, while others may use it as a stepping stone to even more committed competitive levels.
RIFAC's nationally recognized Competitive Team Program is made up of individuals who are striving for achievement in both fencing and life, understanding that fencing is a vehicle for learning life lessons and for personal development and transformation. RIFAC's coaches and staff guide and mentor members in this direction to fencing success in local, regional, national and international events. While Team members are each striving for individual greatness, the group trains as a whole, with each member responsible for helping their teammates to succeed.
For many teens and adults, RIFAC Club Membership allows them to attend open fencing and excel as recreational fencers.  Fencers (ages 14 and up) who have completed the beginner class are welcome to join RIFAC as a member and enjoy all the benefits RIFAC Membership has to offer.  Typically, students find it best to join the fencing club after taking classes for about a year.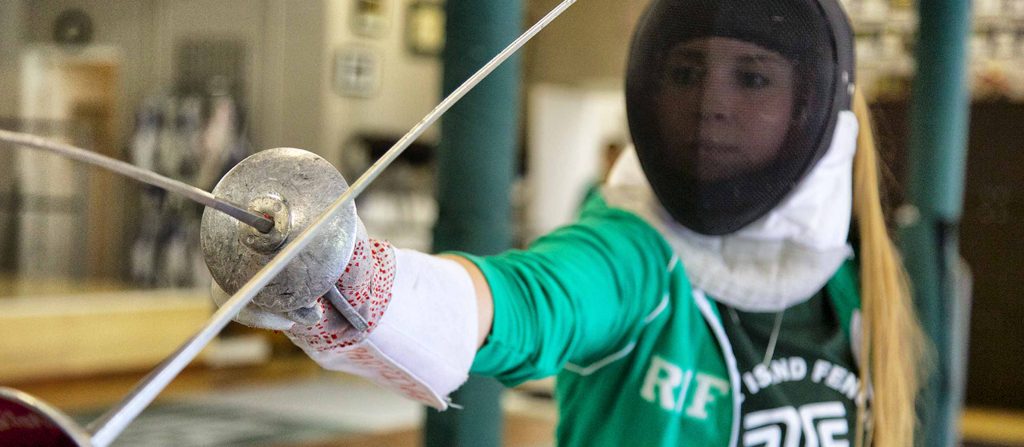 Open fencing is a self-directed time to train at RIFAC. Fencers warm up, do some wall-target practice or footwork, then jump on the strip for lots of electric bouting. RIFAC's most experienced fencers train during open fencing, so it's a great opportunity to pick up techniques from the pros! Attending a few months of the Adult Fencing Class is recommended prior to participating.
Open Fencing September-June: 
Tuesdays 7:30-9pm, Fridays 7:30-9pm
Open Fencing July-August: 
Tuesdays 7:30-9pm, Thursdays 7:30-9pm
Designed to give RIFAC's adult fencers (ages 16 and up) a complete fencing workout, this class includes footwork, conditioning, and electric bouting. All weapons.