Take your fencing to the next level this summer!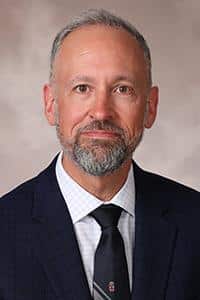 Brown Head Coach
Alex Ripa
Alex is the Head Coach and owner of RIFAC, and is the Head Coach at Brown University. He was named Coach of the Year in 2016 by the US Fencing Coaches Association (USFCA). He coaches successful international competitors, members of the US Cadet/Junior and US Veteran World Teams, Ivy League and NCAA champions.
Coed ages 12-18 by the start of camp
The Bears Elite Fencing Camp will offer competitive fencers an opportunity to work with Brown's awesome coaching staff and elevate their fencing to the next level. RIFAC is home to the Brown Bears Varsity Women's Fencing Team and the Brown Bears Men's Club Team.
This is an excellent camp for fencers interested in competing at the national and collegiate level. It is also the perfect tune-up camp for those heading to Summer Nationals.
Join us for instruction in all three weapons, with a special focus on mental preparation. Participants will achieve improvement in footwork, bladework, tactics, and mental toughness while working with Head Coach Alex Ripa and the Brown staff, who approach training with a focus on athlete individuality.
Coach Ripa will teach athletes to expect the best from themselves and will guide them to expand their best attributes that make them unique! Come join us this summer for hard work, lots of learning, and lots of fun in the Ocean State!
Required Fencing Equipment
Since this is a competitive camp, fencers are required to have all of their own equipment. This includes everything they would use at a competition: underarm protector, jacket, glove, mask, knickers, fencing socks and sneakers, lame (foil or saber), 2 body cords and at least 2 electric weapons.
This camp is open to any and all entrants, limited only by number, age, grade level and/or gender.
This camp is not sponsored nor hosted by Brown University, but rather is under the sole supervision and control of RIFAC.
*10% FAMILY, MULTI-CAMP AND EARLY REGISTRATION DISCOUNT NOT APPLICABLE FOR BEARS ELITE CAMP. 

This camp will take place at RIFAC, which is located just a few miles from the Brown campus.
Please see our COVID guidelines and resources.
RIFAC has 14 full sized grounded strips, air-conditioning, and all the training equipment needed for fencing at the highest level.
Participants can either pack their own lunch or may purchase lunch each day for an additional cost.
Dates: June 19-22, 2023 (Monday- Thursday)
Cost: $750
Please note the schedule below is tentative and subject to change
Monday – Wednesday
8:30 – 9:00 am • Arrive at RIFAC
9:00 am -12:00 pm • Warm-up, Footwork, Conditioning, Mental Toughness/Goal Setting, Group Lesson
12:00 – 1:00pm • Lunch*
1:00 – 4:00 pm • Group and Individual Lessons, Structured Bouting, Competitive Fencing
4:00 pm • Dismissal from RIFAC
Thursday
8:30 – 9am • Arrive at RIFAC 
9:00 am – 12:00 pm • Warm-up, Footwork, Conditioning, Mental Toughness/Goal Setting, Group Lesson
12:00 pm – 1:00 pm • Lunch*
1:00 – 4 pm • Competitive Team Events/ NCAA style tournament
4:00 – 4:30 pm • Dismissal from Camp
*Campers can either pack their own lunch or may purchase lunch each day for an additional cost.
Evening Activities are organized for fencers and may include a Brown Campus Tour, Movie Night, Game Night and a special camp-end dinner at Flatbread Pizza Company.
A special Meet and Greet with Coach Alex will be held for all camp participants and parents at RIFAC on Sunday, June 18, from 4-6pm.
Host Hotel 
Clarion Inn Seekonk-Providence  
940 Fall River Avenue, Seekonk, MA, 02771  
(508) 336-7300
Rate: $109/night
Please call hotel for reservations.
A Bears Elite camp staff member will be on site at the Clarion to assist with check-in and as a point of contact throughout the week for participants traveling without a parent/ guardian. 
Breakfast is included and there is a restaurant onsite for dinner. Many other local food options are nearby. 
Participants can either pack their own lunch or may purchase lunch each day at the camp for an additional cost. 
There is also a pool and courtyard area to gather and socialize. 
Transportation to/from RIFAC will be provided daily.
Additional Housing Options
Fencers traveling with a parent or guardian may want to consider staying in downtown Providence where several hotel options are available within walking distance to many wonderful restaurants and local attractions.  
Several Airbnb options are also available in the beautiful surrounding coastal areas of Rhode Island, such as Bristol and Newport.